10 Strongest Shock Collars for Dogs – Buying Guide & Reviews
After long research, Dogtra 1900S Series Ergonomic shock collars are the Strongest Shock Collars for Dogs on the Market.
Do you want to see your dog obedient and calm?
Or just desire to train him in such a way that he follows all of your instructions? Well, whatever the case may be the strongest shock collar for dogs will be the solution to all of your problems. 
Not to mention that the unusual behavior of your dog will not only be annoying for you but can also affect your relationship with your neighborhood. Therefore, a good shock collar is a necessity for every dog parent as it keeps the behavior of your dog under control. 
To add more perspective to it, these collars come with a receiver and remote control to fully administer your dog. However, their stimulation level varies so, you have the luxury of choosing the desired level which suits your dog.
Moreover, it should be durable enough to withstand harsh weather conditions so you can use it in any kind of environment.
Which is the strongest shock collar for dogs?
Dogtra 1900S Series Ergonomic shock collar is the strongest shock collar having 0-127 levels of stimulation and it is perfect for headstrong canines.
Most Strongest Shock Collars For Dogs | Our Top 3 Picks
Strongest Shock Collars For Dogs Reviews | Pets Guide YouTube
Strongest Shock Collars For Dogs Buying Guide
Selecting the strongest shock collar for dogs can be a cheerful task for pet owners. While checking the varied range of shock collars for dogs, you can go through confusion. Therefore, we will present detailed buying guide tips for you to choose the appropriate product for your loving furry friend.
1. Stimulation Modes
It is one of the most significant features to look for in the best shock collars for large dogs or even medium-sized dogs. There can be 100 or more levels present in this device for stimulation check on your dog.
Usually, there are 2-3 modes present in this collar. You can select the beep or vibrating mode while training your dog. We always recommend our users train their pets first with sound and light modes instead of shock therapies.
2. Range Effectiveness
Often people wonder do electric shock collars harm dogs.
The point that you have to consider is the distance that your dog is from you and the collar. Therefore, the range is essential to understand how much you should use the shocking collar in various situations. Again, an effective range is great for training your dog nicely. In general, you will get dog collars ranging between 400 feet to 1100 yards away.
In case you are planning to go on the mountains or trekking, then you should invest in shock collars ranging in miles. If you want to train your pet in small yards, then opt for less range.
3. Shocking Levels
You have to think about the levels of shock that are present in the device. Usually, there are 500 or more shocking levels installed in the shock collars for the dogs. Now the question may arise do electric shock collars harm dogs? Yes, if the shocking levels are not known correctly. It can affect your dog's physical and mental state.
Therefore, you have to use the shock collar for training purposes only. Go through the manual well before using it. Otherwise, it can cause negative damage to your dog.
4. Waterproof
In general, you will find all dogs love water. They love to spend time in the swimming pool or playing in the rain. Therefore, before investing in the shock collar for large stubborn dogs, make sure the water resistance capacity of this product should be impressive. When you are using the shock collar in water, try putting the stimulation in a lower range.
5. Comfort Level
The shock collar dogs should not feel uncomfortable or uneasy while wearing it. Therefore, you should select a collar that is flexible or adjustable according to your dog's neck size.
Again, in this context, it is essential to consider the material of the collar too. Buying synthetic collars can cause skin irritation. Go for the shock collars that are long-lasting yet comfortable.
6. User Friendly
For new dog parents, a user-friendly dog harness with a shocking level is important. The shock collar should come with a detailed manual. Read more about the training and shock levels to avoid any injury or damage to your dog.
7. Price
Before you are planning to buy the best shock collar for large stubborn dogs or the best shock collar for large dogs, research online. It is not true that expensive collars will have fewer risks and shocks. You can read more about the reviews and compare the prices online. It will help you to gain a fair idea about the cost. Always go for the safest and right product for your dog.
List Of 10 Strongest Shock Collars For Dogs
Finding such an amazing shock collar is a time-taking process but this will not be the situation anymore. Here I have unveiled the top 10 best shock collars for dogs. 
On the top of the list is unbeatable and effective shock collars for dogs that have a seamless design. The Dogtra 1900S contains everything which you need in a perfect quality collar. Go through all of the incredible features which are discussed in detail for keeping you well-informed. 
Starting with its design, its strap not only keeps the receiver perfectly in place but also provides better skin contact. It is very reliable as both of its devices are gone through various tests which proved that they can withstand harsh weather conditions.
On the bright side, it is suitable for dogs of all ages and of different sizes. So, after investing money in it once, you can use it for multiple dogs because of its easy adjustability and versatile features. Besides, it's easy to give commands for complex dog training therefore, the preferred choice of the household as well as professional trainers.
The reason for giving so much importance to this shock collar is that it will provide you with better control for training. Not to mention that it is your major concern to find the ideal intensity level for controlling your aggressive pet. With its 127 intensity levels, you can easily optimize your desired level and can change it as well with the help of its rheostat dial. 
Furthermore, it is the most powerful shock collar available on the market as it provides continuous stimulation for 12 seconds. This will be hard to bear even for big dogs so what else you can ask for? 
Expert Advice
This collar is an ultimate training tool that allows you to have precise control over its different intensity levels. Also features a hand-free remote controller for easy operation so, highly recommended. 
2. SportDOG Brand 425X Remote Trainers Review (Best Shock Collar for Dogs)
Do you have a difficult-to-handle or anxious dog for training? Or are you just having a hard time using your recent shock collar as your dog doesn't respond to it? Well, whatever the situation may be the SportDog shock collar will not disappoint you. It is packed with dynamic features that are worthy of having a look at.
Being a dog owner, you will be aware of the fact that some dogs did not give the response to even moderate shocks. This 425X remote trainer will work great for such dogs as it gives a momentary and consecutive current. Furthermore, its plus point is that the current used in it doesn't lose its strength hence, the dog couldn't resist paying attention to the command. 
Talking about their battery, both of these devices come with lithium and Li-ion batteries. It only takes two hours to charge and after charging it fully, you can use this battery for weeks. Hence, it is reliable to use while you are taking your dog with you during outdoor activities. 
On the other hand, its collar strap could be adjusted easily and can be used for 5 to 22 inches sizes. Also, the receiver of this collar is waterproof and because of its drier technology, it is submersible to 25 feet.
Besides, it is specially crafted to train big and stubborn dogs, therefore, having a range of 500 yards. As well as its intensity levels are concerned, it has 21 levels and its receiver has the capability of handling three collars at a time. However, you won't get the extra two collars in this and need to buy these separately. 
Expert Advice
This remote trainer is easy to operate, works consistently, and has special features to handle aggressiveness and big dogs so must check it out. 
3. Garmin Pro 70 Dog Training System Review (Best Shock Collar for Large Dogs)
The Garmin Delta XC bundle works by using tri-tonics technology and is highly easy to use hence, a perfect option for new dog parents. At the same time, its excellent working and efficient performance make it reliable for professional trainers as well. I am sure that you will like to walk through the other amazing features of this shock collar, that's why I listed those below.
One of the key features that make it distinguished from other dog collars is its save-setting system. With its help, you can save the best setting and after saving, you only have to push one button for operating the complete settings in sequence automatically.
The major issue with the cheapest quality dog collars is that they leave a burn on your dog's skin because of their high-intensity shocks. However, this is not the case with this shock collar as it doesn't leave any mark on your dog's skin hence, safe to use. 
On the bright side, you can fully control its receiver with the help of the remote. Also, it is accompanied by a high-quality battery that can be used even for a long time after charging once. To give you an idea, if you train your dog for almost three hours daily then you can use its battery for a complete 30 days after charging once. 
Besides, it can be used for inside & outside dog training and has a range of 1/2 miles. The collar of this product is very comfy so your dog can wear it for a long time without getting irritated. 
Expert Advice
This shock collar works great for fixing the unusual behavior of big dogs and is powered with long battery life. A great option for all dog parents because of its outstanding performance. 
4. Pet Resolve Training Collar Review (Strongest Shock collar For dogs In Budget)
Want to have a good-quality shock collar but have a limited budget? Then pick up this one and note that it gives an incredible performance despite having a reasonable price. Therefore, purchase it without any worry but wait let's first check out its features in detail. 
The plus point of this dog training collar is that it has a long range of memory. Talking about its range, it is 3/4 miles and covers a long area hence, a perfect option for outdoor activities like hiking. Besides, it is made up of excellent quality material and is not prone to breakage hence, worth purchasing. 
Besides, it can support more than 3 collars at a time and has 10 levels of continuous shocks, vibrations, and beeps. You can easily teach your dog various commands by using this efficient and powerful shock collar. It comes with a warranty so if you face any issues in using this collar then you can contact the manufacturer for fixing it.  
Is your dog fond of playing in the water? Well, then you need a completely waterproof system so that your dog can play safely and effectively. However, this shock collar doesn't damage even after fully submerging in water so what else do you need? 
Additionally, some cheap quality shock collars go on standby modes which is frustrating. This dog collar is not one of them as it remains ready to use all the time so, you can rely on it. Also, it has an ultra-long-lasting battery that can be used for an extended period after complete charging. 
Expert Advice
If you have a fussy pet that embarrasses you most of the time then pick up this gadget. With its variable shock and vibration level, you won't have any trouble controlling your aggressive dog.
5. PetSpy P620B Dog Training Review (Cheapest Shock Collar for Dogs)
The PetSpy dog training collar now comes with an upgradable & improved design so that's why I included it in this list. Besides, this is the strongest shock collar on the market at present so, let's go through its main features, pros, and cons. 
On the bright side, this shock collar is equally useful for small, medium as well as large dogs. Also, it works by using the Tri-tonics technology and features different settings so you have the liberty of customizing these according to your convenience. Believe me, you won't repent after purchasing it because it provides great value in return for every penny. 
Speaking about its remote, it can support more than three collars at the same3 time. Furthermore, this P620B dog training collar has very powerful vibrations which can easily catch the attention of your dog. Hence, you can easily make your dog more disciplined by using this efficient dog collar. 
Furthermore, this collar does not go into standby mode and stays connected to the device & receiver all the time. The plus point of this training collar is that it is very efficient in giving commands and responding on the spot. As well as its battery is concerned, it comes with a powerful battery that is convenient to charge and lasts for a long time.
Also, it has a range of 3 to 4 miles and 10 different stimulation levels for giving various commands to the dog. You can set various commands on it that can be operated later on merely by using one button. Meanwhile, it has a waterproof design and a warranty of two years to give you a better experience.  
Expert Advice
Thus, this is a powerful shock collar by PetSpy which has overall good performance. This is a premium quality dog training collar that can fix your dog's behavior within some days.  
6. SportDOG Brand SportTrainer Review
Next up is the SportDog brand sports trainer which is a high-quality e-collar for training dogs. It not only looks good in appearance but also has an outstanding performance so, let's quickly jump into its details.
Speaking about its range, it has an 880 yards range (1/2 miles) and features a handled transmitter. Besides, it has two different options for training which include vibration and tone. Its system is expandable so, you can connect it with 3 different collars at a time by using the same remote.
Moreover, it gives you the feasibility of attaching multiple dogs with the mechanism. Therefore, if you have more than one dog then this remote trainer will be a perfect option for you to consider. As well as its useability is concerned, it can be used for dogs of 8 pounds or greater weight 5-22" inches. 
On the bright side, it features a readable LED screen so you can easily observe the battery status, mode, and stimulation level of dogs. Besides, it has plus and minus buttons so you can easily switch between its various stimulus levels.
Furthermore, its collar and transmitter are powered with DryTek technology and are waterproof so can be submerged for 25 feet. It has lithium-ion rechargeable batteries that can be utilized for 50-70 hours after charging once. 
Meanwhile, you will get multiple useful accessories in the pack including an operating guide and a DVD for training. Additionally, it is crafted by keeping in view the harsh weather conditions so can withstand rain, snow, mud, and dust. 
Expert Advice
It is a perfect option for all of those dog owners who are looking for an LCD screen display in place of an analog transmitter to keep a better eye on their dogs all the time. 
7. Lu&Ba Dog Collar Review (Long Range Dog Training Collar)
The Lu&Ba is a well-known brand that always satisfies its customers by producing high-quality products and the same is the case with this collar. It is suitable for dogs of all sizes & ages and is equipped with a nylon collar so highly comfortable. Just keep reading to know more about its other important aspects, merits, and demerits.
Adding to this, it has 3 different training modes which include beep, vibration, and shock with a 1-16 sensitivity level. The problem with most shock collars is that these lack security which can lead to misoperation hence, you have to repent afterward. But with this shock collar, you don't need to worry about any accidental operation as it is safe in this aspect.
Moreover, it has 1000 feet range and can support training two dogs simultaneously because of its dual-channel mode. It is very efficient in its work so you can easily give commands to your dog for making him disciplined. With this collar, your dog can freely spend time in the water as it has a waterproof design.
Also, its transmitter and remote both are rechargeable and can be used for 10-15 days after charging once. It has high-quality construction, an ergonomic design, and is covered with silicone so you can easily hold it.
Not to mention that some high-intensity shock collar makes your dog more depressed and anxious because of their unbearable shocks. But the key feature of this collar is that it works humanely, therefore, will not affect the psyche of your pet. Besides, the manufacturer offers a warranty of 365 days so if you face any issue during this time then you can ask for assistance. 
Expert Advice
I strongly recommend this shock collar because of its human-like operations, appealing design, long-distance range, and good battery life. 
8. PATPET Dog Training Review (Strong Shock Collar with High Voltage)
Another amazing product on the list is named PATPET dog training collar which is very useful for training dogs. On the bright side, it contains various useful accessories so you don't need to buy these separately. Scroll down to know about the other features of this high-voltage shock collar.
This collar can be connected with 2 receivers with the help of its remote hence, a perfect option for anyone who has two dogs. Also, it has three different intensity levels which include beep, vibration, and shock. It comes with 1-16 level shocks for fixing the chewing, biting, digging, barking, and other behavior problems of the dog.
Moreover, it is made up of 434MHz technology so it can cover 985ft even in the presence of obstacles. However, in an open area and during the absence of obstacles, it can cover a very long-range (3000ft). 
Adding to this, you can use this collar for indoor as well as outdoor activities without any hindrance. Thanks to its waterproof design you don't have to face any issues in its working while your dog is in water. Also, it has convenient to carry a USB charging method and its battery can be charged easily in a short time.
Furthermore, it has a small receiver and 27-inch-long collar strap that can be used for dogs of 8-90lbs weight. Its on-off button is powered with a safety lock to avoid any misoperation hence, preventing accidental shocks. 
Lastly, in the pack, you will get a test light, USB charge cable, remote control, and a user manual. So, even if you are unaware of using the shock collar then don't worry as its user manual will provide you a complete guidelines. 
Expert Advice
PATPET is a beautifully made dog training collar that is highly praised by the user and their satisfaction reveals that it is worthy of consideration.  
9. Bousnic Dog Training Collar Review for 2 Dogs (8-120lbs) Waterproof
The Bousnic dog shock collar is effective and safe to use for training dogs. Besides, these are an ideal choice for home usage and are equipped with humane training modes. To help you make up your mind here I have unveiled all of the other features of this shock collar.
Talking about its description, it is a versatile collar that can be effectively used for indoor and outdoor activities. Also, it has twin channels and can be used for two dogs at the same time. It has customized modes which include 1-8 levels of vibration and 16 static shock modes. Hence, you can easily switch between its different modes to find the one that perfectly suits your pet. 
Additionally, its batteries are rechargeable and can be used for more than 15-20 days after charging for 2-3 hours. It also features a changeable nylon collar that will perfectly fit 8-26 inches in length. 
The one thing I liked about this shock collar is its appealing design which will attract you for sure at first glance. Also, it is super comfortable and light in weight so, your pet will not be irritated after wearing this. On the bright side, its silicone prongs are safe and gentle which will help your pet in learning the commands effectively. 
Besides, it has a waterproof design and is exceptionally durable hence, can be used in long term. It offers you maximum flexibility and is a perfect option for training professionals as well as beginners in making their dogs more disciplined. 
Expert Advice
The Bousnic shock collar is a reliable option to use for two dogs and has an eye-catching design. Besides, it has multiple vibration and stimulation settings that can be customized according to your pet's temperament. 
10. Petrainer Waterproof Dog Shock Collar Review
Petrainer needs no introduction because it is a well-known brand and produces premium quality products. As well as the working of this waterproof shock collar is concerned, it's very useful in controlling the aggressive behavior of your dog. Let's proceed further to have complete information about this shock collar for a 150lb dog.
This collar is designed to make your dog obedient so, addresses the barking, sitting, walking, and other similar issues of the dog's behavior. Besides, it has three training modes and those are vibration, shock, and beep. 
To add more perspective to it, the vibration and beep mode will be helpful to teach basic training skills. However, if you have an aggressive dog who doesn't pay attention to both of these modes then you can switch to shock. The shock level ranges from 0 to 100 and you can switch between its different levels for finding a suitable model for the dog.
Being a dog owner, you should be well aware of your dog's temperament and be careful in choosing the shock level for them. It is because dogs are very sensitive and if you will hurt them mistakenly then it will affect the relationship between you and him/her. As a general rule, kindly be very cautious in this regard and only use high-intensity shocks in extreme cases. 
Thanks to its waterproof feature your pet can enjoy playing and swimming for long hours. The RF434mhz technology is used in designing this collar and it has a range of 1000ft. Also, the high-quality and soft silicone coating is done over this device so it won't cause any irritability on your pet's skin. 
Expert Advice
An ideal option for training dogs with changeable intensity levels and waterproof construction. Its excellent quality material takes better care of your dog's skin so order it now or shop online.
Precautions While Using Shock Collars For Dog
If you are buying the shock collar for your dog first time, you may have questions like are electric shock collars bad for dogs?
The answer is these types of collars can harm your furry friend. The vibration electrical shock can damage the lungs or heart of your pet. Moreover, they often develop a sense of fear and insecurity due to this collar. Repetitive shocks can burn their skin and result in painful marks.
Again, on the other hand, it is one of the smoothest ways to train your dog. Therefore, you should read the user guide before using the shock collar. Secondly, you should not over exceed the usage of this type of shocking collar on your dog.
As a dog parent, you may also think then, what is the most effective shock collar for dogs? You can choose the shock collars for dogs according to the intensity level, waterproof resistance, user-friendly nature, and range of operation. SportDOG Brand 425 Stubborn Dig E- collar, Garmin Delta Sport XC Bundle, and PATPET Dog Training Shock collar are some best brands making effective shock collars for dogs.
FAQs About Most Powerful And Strongest Shock Collars for Dogs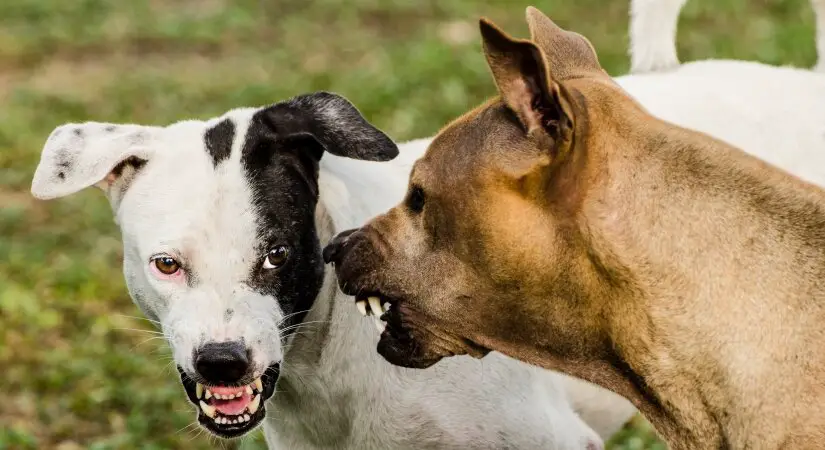 Conclusion 
The strongest shock collar for big dogs helps you in making them more disciplined hence, will improve your relationship with them. 
All of these strongest electric shock collars for dogs will work great but my recommendation is Dogtra 1900S Series ergonomic dog training collar. The reason for giving it a priority is its precise control, long battery life, and easy-to-customize stimulation level. 
I hope you will enjoy reading this write-up. Kindly share it and let me know about your precious suggestions.
Cheers!