You know human food may be toxic to a dog's health and it may upset their gastrointestinal tract. But some foods are good for their health like fruits. Fruits contain essentials nutrients.
You can give fruits to your canine as an occasional treat. Fruits are juicy, tasty, and safe for health but they should be given in a considerable amount. So, we talk about blackberries,
Can Dogs Eat Blackberries?
Yes, dogs can eat blackberries, Your canine health is taken seriously, so, you can live a healthy life. Dogs enjoy berries just like humans.
They are really safe for your dog's health. But to give any new food to your canine you must discuss or consult with your vet.
Are Blackberries good for your dog?
Blackberries contain minerals, vitamins, and antioxidants. Antioxidants are substances that inhibit the free radicals production in the body. So, they are safe for your dog to eat.
When hot summer days come, you can give blackberries to your dog into chunks and add them to their meal. Moderation is key and you should give those blackberries in a moderate amount.
Carbohydrates are present in blackberries. It also contains vitamin K and C, manganese, and potassium. It contains a small amount of proteins and fat.
Many farmers tell that their dogs enter the field and eat the fallen blackberries and enjoy the taste of this juicy fruit as a snack.
How many Blackberries can a Dog eat?
You should not present a whole basket of blackberries to your dog. Excess of everything is bad for health, so blackberries in excess are also toxic to your dog.
So you serve three to five blackberries in the dog's bowl and monitor them if your dog tolerates it then add more blackberries. It also depends on your dog size.
If your dog is obese, then avoid giving so many blackberries. 2-3 blackberries are enough for their diet. It should be 10 percent of your dog's total calories. Sprinkle in their dinner once or twice a week.
It's preferable you should focus on their healthy commercially prepared meal for better health.
Suddenly we thought about why it is toxic when it contains essentials nutrients. The digestive system of dogs is not just like humans.
So these nutrients if taken in excess amount, causes digestive problems like nausea and diarrhea.
In Stomach issues, you should feed an easily digestible diet to your pooch.
How to serve Blackberries to your dog?
You can serve blackberries to your dogs in different forms, so they enjoy a happy meal.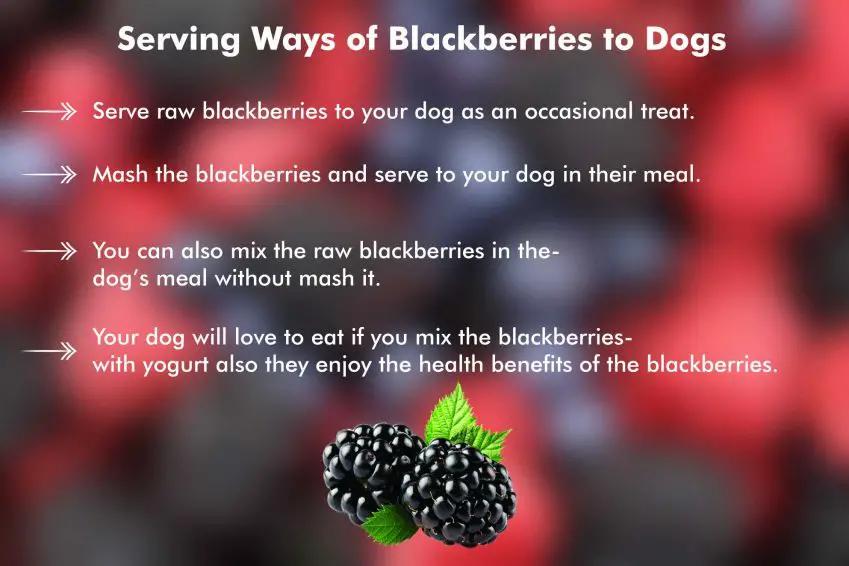 Are frozen Blackberries good for dogs?
Freeze the item would change the texture of the product. It will be tastier and beneficial for health. You can purchase frozen blackberries from the supermarket but make sure it does not contain any sweetener or additives.
There are many methods of freezing, so you can adopt any one of them.
Fully freeze the blackberries in a fridge and serve to your dog as a frozen treat.
Mix yogurt and blackberries and freeze it, then serve as a treat to your dog. You can freeze this mixture in a Kong Toy.
Take some blackberries, wash it and mash it, now placed these mashed blackberries on wax paper and put it in the fridge for a freeze. After freezing, present this in front of your dog, Your dog will enjoy a happy meal in hot summer days.
Are Blackberries Poisonous to dogs?
There is no toxic material present in blackberries that is injurious to your dog's health. Your dog will remain healthy and enjoy a normal lifestyle after eating blackberries. So, take a long breath after serving blackberries to your dog.
If your dog snatches the blackberries from the bush then it may contain some toxic material in it or maybe sometimes seeds fall on the plants with the help of air.
In this case, your blackberries along leaves may be toxic and cause the illness of your dog. you can also feed some other fruits to your dog.
Can Dogs eat Blackberry jam?
James should be avoided because it contains a lot of carbohydrates and many other additives and artificial sweeteners like xylitol are present.
They are not beneficial for dogs and they produce pain in the stomach and diarrhea occurs.
These James are harmful to your dog because they are made especially for humans. So, it is best to avoid James for your canine.
Blackberry treat recipe for Dogs?
If you want your dog to enjoy a nutritional treat then follow these steps to get your recipe.
Ingredients
16 raw blackberries
Almonds (as per required)
2 tablespoon honey
½ cup butter
2 eggs
half cup wheat flour or 2 cup oats
First, take the blackberries and put them in the blender, so, they will mash completely. Then take a large bowl, add these mashed blackberries and add all ingredients except almonds. Almond should be chopped. Mix all the ingredients and make the dough. 
Now cut the dough into cookie shape round or rectangle depending upon your choice and place it on greased cookie sheet.
Now put this in the oven at 350 degrees for 25-30 minutes. Allow them to cool. Now store them for a week in the refrigerator.
If you have an agile and vigilant pooch who needs more energy then you should feed him its specific diet.
What should you do if your Dog eats a lot of Blackberries?
If you are in the kitchen and you washed blackberries and placed them in a bucket on the table and suddenly you thought it's 2:00 pm you have to prepare food for the family and you keep busy with your work.
You have no attention to any other thing and your dog comes and eats the whole bucket of blackberries.
Now you are in worry that it might be toxic to your dog. Don't panic and call the veterinarian or Observe your dog for a few hours. If you observe vomiting or diarrhea, then consult your veterinarian.
Can Blackberries treat gastrointestinal problems in Dogs?
Blackberries are loaded with fiber and it helps to treat gastrointestinal problems in dogs. If your dog is facing a problem of diarrhea and constipation, then blackberries would be helpful to cure these problems.
As blackberries are juicy, it would make your dog feel full and less thirsty for more food.
Can Blackberries treat inflammation in Dogs?
Just like many other beneficial properties, blackberry also has anti-inflammatory activity.  Blackberries contain antioxidants. One of them is Anthocyanins, which prevents the production of free radicals in the body.
Free radicals are highly reactive molecules and they cause cancer and it also involves in the aging process. So this antioxidant prevents cancer and heart diseases.
Benefits of giving Blackberries to Dogs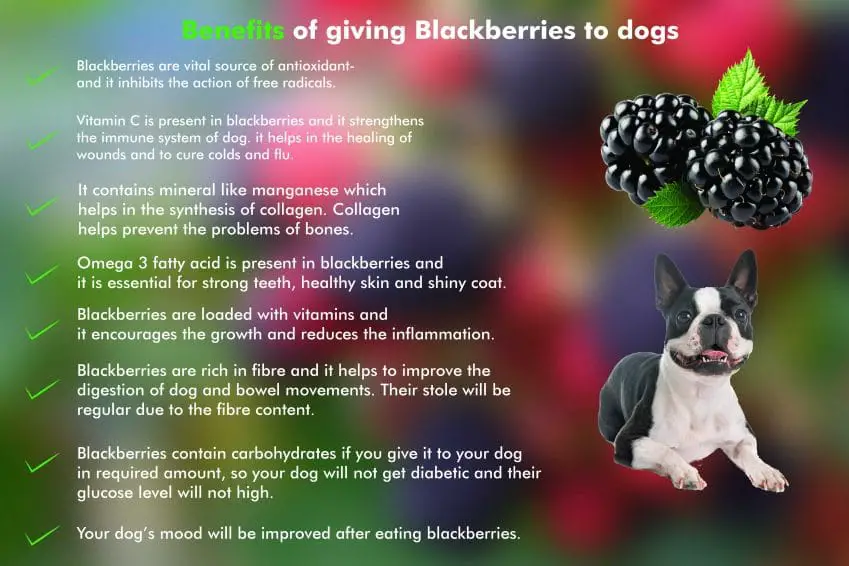 Drawbacks of giving Blackberries to Dogs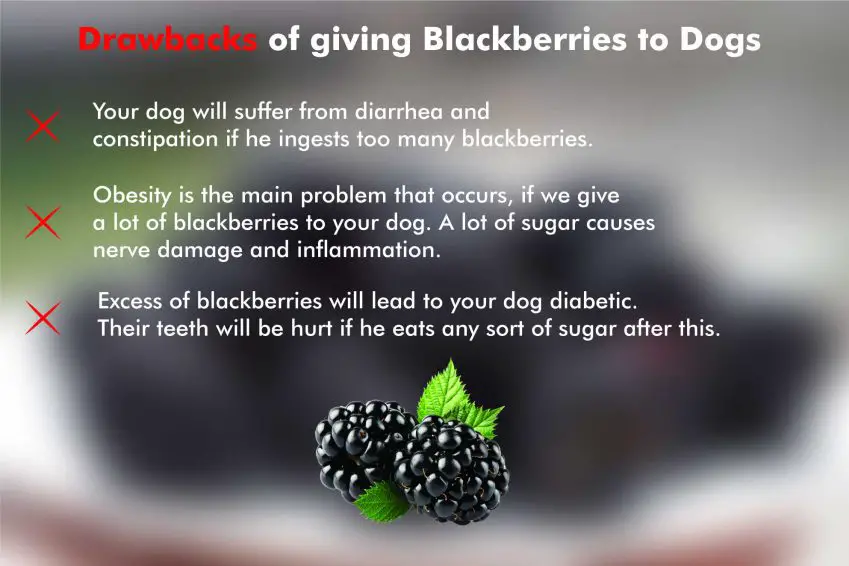 Conclusion
Carefully focus on your pet's health. Don't give food without consulting the veterinarian. Because you thought that this food is healthy for your dog and your dog may suffer from digestive problems.
So if we talk about blackberries, then they are safe for your dogs. They are loaded with minerals, vitamins, and antioxidants. These all nutrients help to boost up the immune system of the dogs and prevent diarrhea, vomiting, and constipation.
I hope this article will help you in understanding can dogs eat blackberries.