Usually, wet or canned dog foods are expensive but considered more beneficial than dry ones. So it isn't easy to decide which is the best affordable wet dog food.
Wet dog foods are highly recommended for many reasons but mainly due to high moisture levels compared to dry foods. If your puppy doesn't drink enough water, wet food can be a suitable alternative. Another point is that it can be a reasonable choice for senior pets with dental problems.
Buying Guide Of Best Affordable Wet Dog Food
It is always challenging to choose the right food for your pet dog. We present a detailed buying guide here to help you understand and select the ideal option for your dog. Proper food is essential for your pet to maintain dog health.
Age Of Your Dog
Before considering your pet's nutrition, you must consider its age. According to the dog's age, you can understand its diet needs of them.
For Puppies
You should always choose the food for your small pups with 20-21% protein content. Again, omega-3 fatty acid present in the fish is suitable for small dogs. It benefits the development of the little pup's eyes, brain, and heart. Check for the AAFCO label while buying wet puppy food.
For Large Or Senior Dogs
The nutrition content of the large dogs should contain 18-19% protein in the wet food. The balanced and complete certification of AAFCO should be present for these dogs. Make sure the wet food should have fewer carbohydrates.
With growing age, the dogs develop muscle or joint problems. Hence, it would be best to opt for dietary wet food with joint supplements. Preferably, wet food containing glucosamine is better for such common problems. Training a dog with a proper diet for dogs with health issues is essential.
For Pregnant Dogs
Pregnant or nursing dogs' food and nutritional content is similar to the little pups. You can provide them with high-quality wet dog food. However, we always suggest consulting a veteran before starting any diet for pregnant dogs.
Consistency Of The Dog Food Type
Every dog food has its consistency. Therefore, you can select the dog's wet food accordingly. Here are the different types of consistent dog food items;
Pate
The pate is also known as the loaf. It has high-calorie content. You can get it in both soft and firm textures. However, as compared to the minced variety, pate is smooth.
Shred Meat
The shredded quantity of wet food, like bones, meat, etc., is easily visible to humans. Moreover, it has low-calorie content. You can provide your dog with raw meaty bones too.
Stew
It is similar to soup with meat. Again, adding more veggies to the stew will make it nutritious and healthy.
Minced
For small puppies, a cup of mined meat is always favorable.
Wet Food According To Breed
You have to understand the requirement of the dog's food based on the dog's breed. For instance, a Labrador may have specific dietary needs but develops obesity quickly. Hence, it is better to opt for low-calorie wet food than to read the nutrition value on the label of the food packet.
Every dog breed has its unique need for food and nutrition. For a healthy dog, nutrition balance is essential. Just because you have a different dog breed with the exact diet requirement does not mean you can make him eat the food of any other particular dog food just because it is advertised.
Size Of The Dog
The dog-wet food also depends on the breed size. The smaller-sized dogs will require calories per pound as regards bigger dogs. Choosing the wet foods for small dogs according to the wet food specified. You can also combine wet food with dry ones and serve it.
Other Important Diets
At times dogs have different special needs as per their health conditions like allergic tendencies, being overweight, etc. Hence, you should choose dog food considering your dog's unique needs.
Treats
If you plan to buy soft treats for your dogs, check their nutritional value.
Low Fat & Carbs
Excess weight or obesity is not a favorable condition for any dog. It can create a hell of a lot of complications in the dog's health. Hence, always look for dog-wet food to control the dog's weight. If your dog is already suffering from obesity, then consult a veteran before planning their diet food.
Ingredients
The exotic or limited components in dog-wet food are prevalent nowadays. It is always advisable to buy dog-wet food from premium brands. The brands do not add extra additives like high salt, sugar, dyes, etc., in the ingredients that can harm your pet.
Before selecting the wet food, check the vitamin and mineral content in the wet food. DHA is beneficial for the heart and eye development of the dog. Again, calcium is ideal for bone growth. For any joint care, go for food containing Chondroitin Sulfate or Glucosamine.
Aafco Label
When buying healthy meatballs or wet dog food, check for the AAFCO label or certificate on the food pack. Mostly you will see this label on premium quality dog damp food. These commercial wet foods have a high standard in their quality. The American Feed Control Official (AAFCO) provides balanced and complete dog food labeling according to quality.
Expiration Date
When you are buying canned wet food for your dog, then make sure to double-check the expiration date on the packaging. If the date is near expiring, do not invest in that dog food.
Budget
You will get several options when it comes to dog-wet foods that are affordable. Both online and groceries sell cheap dog wet food. You can compare the prices online and order accordingly.
Follow Our Video Review For the Best Affordable Wet Dog Food
10 Best Affordable Wet Dog Food Reviews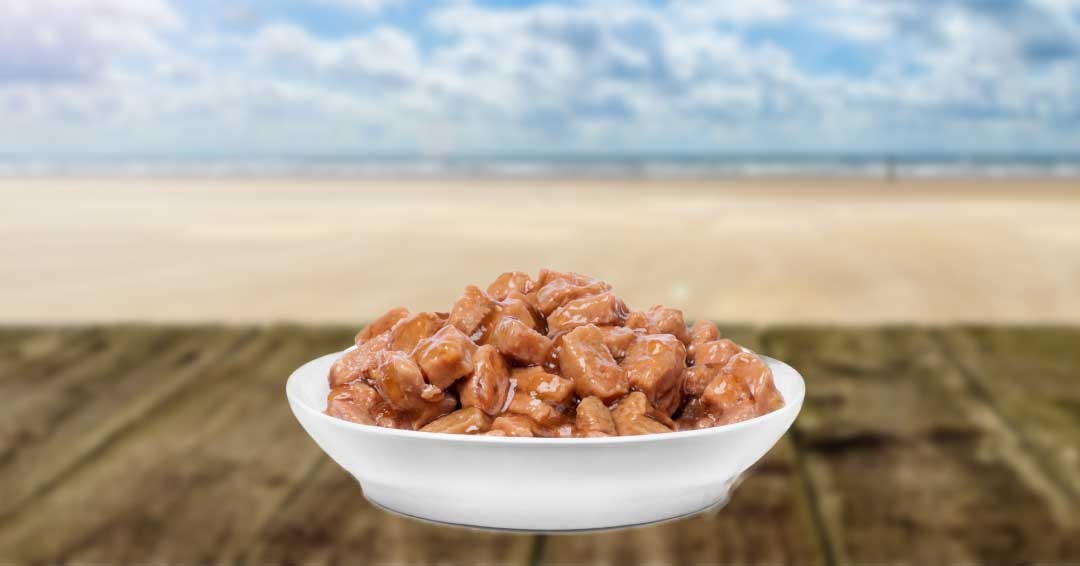 Natural balance ultra premium Wet Dog Food is a healthy choice for all breeds and all stages of their lives. It contains all essential proteins, vitamins, and minerals that help to meet all your pet's nutritional needs.
It is available in 4 different protein-rich options, including beef, chicken, lamb, and liver, which are taken from real and natural resources providing rich protein that helps to develop the healthy muscles of your puppy.
All flavors contain potatoes, brown rice, and carrots which contain fiber to help support healthy digestion and not cause stomach issues.
Natural Balance ultra premium Wet Dog Food is a complete and safe diet for your pet as it doesn't contain artificial flavors or unnatural colors.
It is checked through nine tests by experts and then provided for customers.
Key Features
A complete diet with rich proteins
No artificial chemicals, colors
12 cans of 13 oz. weight
Dog food for all breeds and all stages of life
Examined using nine different tests
You are supported by balanced ratios of Omega-6 and Omega-3 that keep your pup's skin healthy.
Share Us
Taste of the Wild Grain-Free Real Meat Recipe is a perfect wet diet with high protein stews containing vitamins and minerals.
It has five different flavors; lamb, venison and bison, salmon, wild boar, and roasted duck. Every taste contains fruits and vegetables, providing rich vitamins and minerals.
No grains, corn, wheat, filler, artificial colors, or chemicals are added. It is a healthful diet for your puppy, with sufficient fiber from potatoes, blueberries, and soft berries. All ingredients are taken from trusted sources.
Key Features
Available in five flavors
With no grain, Corn, Wheat
The superfood with prebiotic fibers
Highly digestible
No artificial chemicals or colors
12 cans of 13.2 oz. weight
3: Hill's Science Diet (Best affordable wet dog food for Senior Dogs)
A precious gift for senior pets is hill dog food.  Available in two tasty recipes: braised beef, carrots, and peas and roasted chicken, carrots, and spinach.
It contains small pieces of meat rather than potted meat with nice gravy and vegetables like carrots and other veggies—a wholesome diet with Quality protein for building lean muscles.
It is a perfect formula for seven years and older pets full of nutrients and delicious as it is soft to chew for toothless seniors as it is shredded in small pieces.
Hill's Science Diet Wet Dog Food carries clinically proven antioxidants for healthy skin and coat, plus Vitamin C+E for a better immune system—additionally, low levels of calcium and phosphorus for maintaining healthy kidney and heart function.
Always start feeding with an increasing amount of new food and a decreasing amount of old food.
Key Features
Available in two flavors
Trusted sources of ingredients
Soft and easy to digest
Supports seven years or older dogs
Twelve cans with 12.5 oz. Weight.
Recommended by veterinarians
Antioxidants plus vitamins C and E help the immune system.
Tuffy's Pet Food Nutrisource Canned Dog food is a delightful and tasty formula for your pup. Your canine will never get tired of it.
This is available in 2 menu options: chicken, lamb, and ocean fish & chicken and rice. Both rich protein formulas profile different prices for all life stages of a dog. But here, we are mainly focusing on the first one.
This dog food contains healthy ingredients (the main ingredients are chicken, fish, liver, and brown rice), and your furry friends really like the taste.
It contains proteins and fats at a limited level to avoid any health issues, and full of vitamins and minerals and is suitable for growing puppies.
Tuffy's Pet Food Nutrisource Canned Dog food is a grain-free formula that contains no corn, wheat, or soy and keeps your pet preserved from stomach problems.
key Features
Flavor name: Chicken & Rice
Full of vitamins and minerals
Healthy proteins and fats
It doesn't cause stomach issues.
No wheat, corn, or soy
For all life stages of dog life
12 Pack of 13 oz. cans
5: Royal Canin Canine (Best Affordable Wet Dog Food for Adult Dogs)
Royal Canin Health Nutrition Adult Beauty Canned Dog Food is the best option if you want a precise nutritional formula plus the "beauty" with extra oils for your pup.
It is designed for small breeds over ten months old with sensitive skin. It includes omega-6 fatty acids for coat health attributes. It also contains an exclusive blend of four B vitamins and one amino acid to keep the skin hydrated.
The food is soft enough to chew with an excellent quality that would appeal to her tastes and also not upset her delicate digestive system.
Royal Canin Health Nutrition Adult Beauty Canned Dog Food is designed in smaller cans and trays so your dogs have fresh food each time because of less waste than in more enormous cans.
Key Features
For pups over ten months
Use of vitamin B and amino acid
Omega-6 fatty acids for shiny coating
Available in 2 Styles (Cans and Trays) for small breeds
Available in three packing sizes: (3.5 oz. Pack of 24 Cans) (5.8 oz. Pack of 12 Cans) (5.8 oz. Pack of 24 Cans)
A healthy dog is the happiest dog, and if you want to keep your Fido flourishing, don't forget to try Purina Beneful Mediterranian Style Wet Dog Food.
It contains valuable ingredients like Lamb, tomatoes, brown rice, and spinach in a sauce which means a diet with all one formula. All necessary vitamins and minerals are available for your furry friends.
There are no artificial colors or preservatives used in the food. It is a complete and balanced wet food with enough sauce to serve solo and mixed with kibbles.
Purina Beneful Mediterranian Style Wet Dog Food has been confirmed as a protein-rich wet food, as the customers were pleased with that purchase. Lamb meat is almost a favorite ingredient of every pet.
Key Features
100 % perfect for adults
It contains lamb, tomatoes, brown rice, and spinach in sauce.
A moderate quantity of meat in cans
3 Pack of 3 oz. Can (Case 8) a total of 25 cans
Everyone knows which type of food his canine loves, but your furry will indeed become crazy over Tender & True Pet Nutrition Dog Food because of its outstanding taste and smell.
The recipe consists of Organic Turkey and Liver. The company claims that only human-raised Turkey is used with essential minerals, vitamins, and nutrients.
This grain-free diet is suitable for sensitive stomach dogs that don't bother your pup. Tender & True Pet Nutrition Dog Food is a digestible and healthy diet with no artificial colors, flavors, or preservatives.
Your puppy's age, size, and activity may affect the quantity. So please read the label carefully.
Key Features
Cage-free turkey meat used
It contains all minerals and vitamins.
No corn, soy, or wheat
No artificial colors, flavors, and preservatives
5.5 oz. in a Pack of 24 Cans
Blue Buffalo Natural Adult Wet Dog Food is a homestyle natural stew made of healthy meat and veggies dipped in tasty gravy for your pet with natural and fine ingredients, minerals, and vitamins.
Keeping in view your dog's choice, you can grab any of the six available flavors; Beef dinner, Chicken dinner, Fish and sweet potato dinner, Lamb dinner, Turkey meatloaf dinner, and also in a variety pack containing both Beef and Chicken.
All the meat is taken from trusted sources with high-quality protein to support healthy muscle production. Unlike other wet food brands, there are no artificial colors, preservatives, flavors, or by-products, corn, soy, or wheat used in Blue Buffalo Natural Adult Wet Dog Food.
Key Features
Homestyle natural food ingredients
Six menu options to choose
Real meat used
No artificial colors, flavors, or preservatives
No corn, soy, or wheat
12.5 oz. can size
Like its name Solid, Gold Hund-N-Flocken Natural Adult Dog Food is a complete dog diet containing healthy ingredients.
It is a healthy formula having real lamb meat taken from grass-fed lamb, giving a natural protein-rich diet. It is also unique as it contains 20 superfoods, including veggies and fruits, which makes it a healthy and wholesome food.
Nothing artificial is added to Solid Gold Hund-N-Flocken Natural Adult Dog Food, and no more preservatives or colors.
Key Features
6 Cans of 13.2 oz. weight
It contains real lamb meat.
Real meat with high-quality protein
It includes veggies and fruits.
No artificial chemicals used
FAQs Regarding Best Affordable Wet Dog Food
Conclusion
Healthy ingredients with different minerals and vitamins and enough moisture are the trademark of perfect wet dog food. Considering these features and the reviews posted by customers, Royal Canin Health Nutrition Adult Beauty Canned Dog Food seems to have an edge over other products because of its high demand. Any customer reports no critical issue.
Hopefully, considering the criteria mentioned above, you can now choose the perfect foods for your pet.