7 Best Food For Australian Shepherd – Buying Guide with Reviews
Australian shepherds are a mere amalgamation of beauty, agility, and loyalty. To keep their versatility, You must know about the Best food for Australian Shepherd.
They originally have their roots in the Western US and were used to aid shepherds to look after their flocks.
They are undoubtedly versatile as they can perform multiple tasks by becoming a detection dog, rescue dog, therapy dog, hearing dog, and can protect you from many unexpected hazards.
Like many other dogs, Australian Shepherds need many potential tasks to do with many mental exercises. Otherwise, they can be loud and destructive if not given these tasks.
See Also: Best Shock Collar for German Shepherd
You can make them bust through fly balls and frisbees. These minor plays will keep them active and strong till the night. These Shepherds can literally work out throughout the day without any hesitation.
You might be thinking about the food they should be given. Randomly talking I don't need your confirmation on this question because pet lovers like you can't feed random foods to their companions.
To satisfy your all queries I have given apt information regarding the natural eating of this breed which may help you a lot to have sufficient knowledge about them.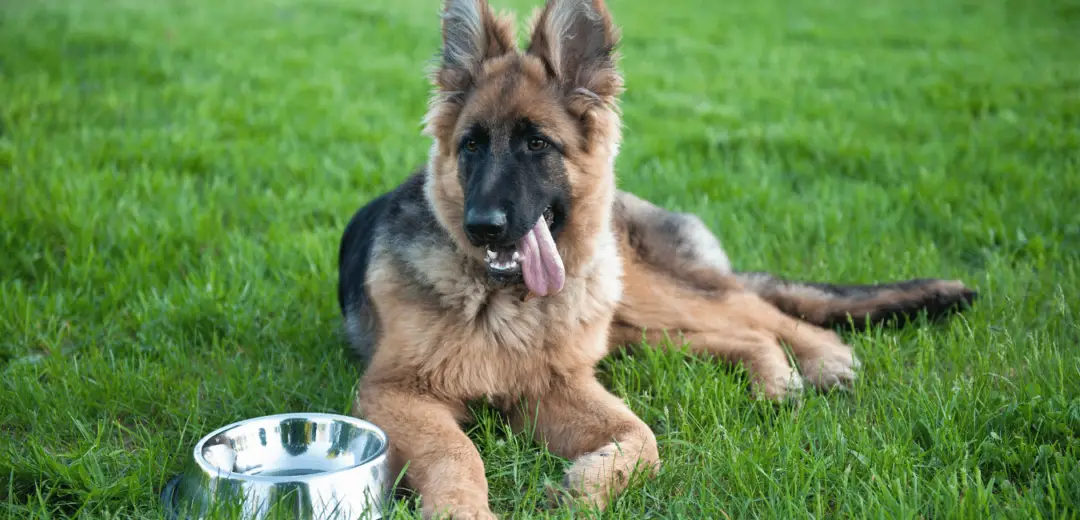 7 Best Food For Australian Shepherd Reviews
Here is a list of best dog food for Australian Shepherd
The 1st pick on the list of best Food for Australian Shepherd is Blue Buffalo Life Protection Formula Natural dry food.
It is a precise mixture of proteins and carbohydrates to meet your Shepherd's required needs and it has no extra calories to help your dog get obese.
Blue is made up of real chicken to help your Shepherd achieve healthy muscles and also contains whole grain, fruits, and garden veggies.
Each ingredient used would be loved by your dog and make you satisfied by watching improvements in your Shepherd's growth.
With reduced calories from the fat, it keeps your dog in healthy weight but increased the level of protein to aid the Shepherd to meet his high needs.
A healthy immune system is required to have optimal growth in all aspects to support its antioxidants, vitamins, minerals are selected by professional vets.
All the natural ingredients are made enhanced with minerals and vitamins to keep your dog healthy, agile, and fit.
To have your trust in this product, it carries no chicken by-product, corn, wheat, soy, artificial flavors, or preservatives.
Key Features
Made with real ingredients.
No extra calories.
American based product.
Increased level of protein to meet dog high energy needs.
Antioxidants, minerals to keep the immune system healthy and make coat shinier.
No by-products.
Should proteins be your foremost priority in dog food?
Yes, there is no doubt about it. Dogs are descendants of wolves and that is why they have to intake proteins in much quantity.
To attain this, this meal fulfills this requirement by adding real meats like salmon, lamb, turkey, duck, boar bison, and chicken, paired with sweet potatoes, peas, and chickpeas.
Moreover, added probiotics for easy digestion, high protein ingredients to aid Australian Shepherd gain lean and strong muscles
To have overall health this meal carries vitamins, minerals, and antioxidants. To make your friend more beautiful it has Omega 6 & 3 fatty acids to improve the quality of the coat and skin.
Key Features
Totally grain-free.
No wheat, corn, or soy.
Probiotics are added to support healthy digestion.
With six different proteins, it helps to give your Shepherd variety in each serving.
Adjustable with all the life stages of Shepherds.
To support your Shepherd's optimal health, this meal is made entirely grain-free. Turkey and chicken are used to having premium protein to get all the protein requirements.
Real veggies are mixed in this product with essential vitamins and minerals. It keeps and maintains the overall health of your beloved Australian Shepherd.
Fortified with antioxidants, probiotics to help your Shepherd fight against infections and other diseases. To keep the coat and skin healthier, salmon oil, fish, and flax omega are mixed.
Dog food with no meat by-products, filler, grain, corn, soy, wheat, and artificial colors. these all together help directly to keep and maintain your Shepherd's optimal health.
Key Features
Totally grain-free.
With premium meat of chicken and turkey to meet the protein requirement.
Real veggies, fruits, and meat.
Antioxidants and probiotics that improve the immune system.
No meat by-product or any corn, wheat, soy, and grain.
Salmon oil, fish and flax omega to make coat healthy and shiny.
No matter whether your Australian Shepherd is a fussy eater or picky, he will love this food. As it contains high protein that meets its high energy needs.
It is a special food for up to 10 months old puppy or an adult with 9-2lb weight. it contains small kibble that makes the chewing process easier.
It includes a precise blend of antioxidants and vitamins that make its immune system better and protein with probiotics that make the digestion process better even with a sensitive stomach.
Key Features
Specifically made for puppies.
Vitamins and antioxidants to support the immune system.
Easily digestible proteins.
Small kibble size.
Highly recommended for pregnant and lactating females. This meal is truly awesome having all the bunch of most essential nutrients.
A grain-free meal supports the optimal health of your loving Australian Shepherd. It consists of high proteins and fewer carbs which optimizes growth and maintains a healthy body.
Some Australian Shepherds are allergic to other proteins but this product has never made any Shepherd allergic.
The special ingredients called ''victor core ingredients'' let your friend's health to maximum. Moreover, these ingredients promote and maintain a healthy immune and digestive system.
This meal helps also to prevent the shedding of the coat.
Fortified with vitamins, minerals, essential fatty acids, protein, and amino acids it boosts the immune system, muscles, skin, and coat.
Fulfills all the high energy demands of your Shepherd.
Key Features
For all the life stages of Australian Shepherd.
Special for pregnant and lactating females.
Protein for high energy purposes.
With vitamins, minerals, and essential fatty acids.
Contain scientifically proven victor core ingredients.
Made with the gluten-free grain.
Dogs definitely need more proteins for proper healthy muscles and energy. Therefore, offering 15% more proteins makes this meal excellent for Australian Shepherds. It has 36% more fats than the original eagle product.
Made from all-natural and premium ingredients. This makes it best for the dog's meal.
Meat by-products are completely not included to keep the Shepherd in healthy condition.
It has no corn, wheat, artificial colors, artificial flavors, and preservatives.
The reason behind not adding these is that they directly or indirectly affect the growth, stomach, and overall health of dogs.
Key Features
16% more proteins.
All-natural; no artificial flavors and colors.
No preservatives.
Contain Brown rice & Fiber that make digestion easier.
It all comes up with a variety of proteins like free-run chicken and turkey, wild-caught fish, cage-free eggs.
These natural ingredients are gonna fulfill all the basic needs of your Shepherd. High protein contents keep the muscles lean, strong, and active.
85% of quality animal ingredients make their way towards optimal health.
Dogs are evolved to eat, that's why this product delivers fresh and raw animal ingredients which include, meat, organs, cartilage, and bones.
Key Features
Wild and Natural Protein Source (chicken, turkey, fish, and eggs).
15% from grain-free ingredients.
85% of proteins from animals.
Fresh and raw animal ingredients.
Let's find out some interesting facts about Australian Shepherd
Native Americans used to believe that they are sacred. Most of the dogs of this breed have two different colored eyes. Actually, they are not from Australia.
Many have short tails (naturally). Dogs, we know bark. But there is another interesting fact behind this breed. They are considered one of the most barking breeds. They would bark at falling leaves, passing cars, and passing by people.
Many dogs gain weight by eating too much. That's why they need 30-45 minutes of exercise daily. Here are some solutions to this problem and these steps are specifically for Australian Shepherds.
Always use quality food.
Calculate the food calories before serving.
Make them walk and run oftentimes. Swimming is best to lose weight.
You might have another question regarding obesity that
How many calories does an Australian shepherd need?
According to research, for an active adult having 50 pounds of his weight, 1353 calories are required to feed which would keep them agile throughout the day.
What nutrients Australian Shepherd needs the most and why?
Protein
The foremost and most essential nutrient required by dogs is protein. Proteins not only build and repair muscles and other body tissues but also keep them healthy and active also.
You may have a question here
Is a high proteinic diet Best Food for Australian Shepherd?
Yes, it not only helps them to stay active all day but also makes their lean muscle stronger. but make sure to feed a specific amount of protein that makes them healthier, which you can discuss with your vet.
Grain-Free Food
So, before coming to it, you should know,
What is grain-free food?
The food having no wheat, corn, rice, and other grains is called grain-free food. Dog's ancestors did not eat grains but today's dogs have evolved their stomachs to digest them.
Should Australian shepherds eat grain-free?
Yes, this kind of food is easier to digest, helps to maintain a healthy weight, and triggers the allergy in the Australian shepherd.
Prebiotics, Probiotics, Vitamins, and Minerals
All these nutrients are crucial for maintaining the optimal health of your Australian shepherd.
Prebiotics and probiotics both maintain the digestive system and keep the immune system healthy. Without these, the dog would get diseases related to digestion and of course related to the immune system also.
Vegetables have different vitamins and minerals, So, you should read this article about which vegetables are best for your best friend.
A weak immune system would offer an easy way for diseases to come.
Vitamin-d is exceptional for growth and minerals like calcium and phosphorus not only make the bones healthy but also strengthen the teeth.
Omegas and Fats
Omega-6 & Omega-3 fatty acids are very essential for their skin and for a better immune system. A little fat is good for energy but more fat in food can cause obesity.
Conclusion
All these products we have mentioned, have their own specifications and in any way help to boost and maintain the optimal health of your Australian Shepherd.
These were some of the best products we could gather for you and promise you that these all would prove excellent.
Among all of them, "VICTOR Purpose Dog Food" is the Best Food for Australian Shepherd.
Moreover, it does not cause allergies to dogs. Their ''Victor Core Ingredients'' strengthen the immune and digestive system. It not only makes the dog's poop less but also prevents the poop from stinking.
So, buy now the best food for your Australian shepherd.