Pet owners adopt dogs for various reasons, like having a companion or someone to protect them and give them a sense of security. So if you are searching for the latter in a dog, you must be looking for larger breeds that can act as a protector.
For people who want a dog to provide them security at home, the scariest looking dog breeds are the best. By scariest dogs, we are only referring to visually intimidating dogs. Because even though they might look dangerous, they're still the most beautiful dogs.
What Are 'Scary Dog Breeds'?
Scary dog breeds are merely visually intimidating dogs who are also aggressive towards strangers. These breeds look large and aggressive, which makes any intruder back right off. For people who need a sense of security in their own homes, these dogs are ideal.
These dogs, however, are on the difficult side in terms of training. People who have already owned and trained dogs before will have no trouble training these puppies. But newbies who do not have prior experience might have difficulty in training these dogs. And training is such an important factor for them as improper training can lead to multiple issues.
And though these dogs are aggressive, ample training will make them obedient to their owners and even quite affectionate. The key to training scary dogs is to control their aggression and, at the same time, give them lots of exercise and love.
And these scariest dogs, at least a majority of the breeds, are very loyal to their owners, so they will protect you for as long as they are alive. They will become a memorable and helpful companion to you and keep you safe.
What Makes Certain Dogs Scary?
Certain features distinguish a petite and adorable dog from a large and intimidating one. These features, especially visual ones, are what make the scariest dogs scary. Any dog with such features will seem scary even though their personality might not be similar to their looks.
Here are some distinct features that are common in the Scariest Looking Dog Breeds:
Size
You guessed it right, the larger breed of dogs are usually the scariest ones too. The large size of these dogs and their weight makes them look bulky, and the intruder would feel that the dog could easily overpower them.
Most of the scariest dogs on this list are huge and weigh over 100 pounds. Their size plays the biggest role in making them look scary, and it is what would make any intruder shiver in fear. And true to the assumptions, these dogs can and will overpower an intruder if they feel threatened.
Physique
While even Golden Retrievers are big, they do not look particularly intimidating. And a similar-sized German Shepherd would scare off any intruder in the home. The reason for this is the physique of the scariest dogs. Most of the dogs in this list have a tall and lean or tall and muscular physique.
Tall and lean dogs like Doberman and Belgian Malinois look agile and active, which makes them scary. On the other hand, tall and muscular breeds like Bullmastiff and Tibetan Mastiff look bulky, and thus they seem scary to intruders.
Facial Features
Some dogs also have scary facial features that make them look almost menacing. While these features are merely facial and have nothing to do with their personality, the features do scare off intruders very well.
Imagine dogs like a Rottweiler or even a Dogue de Bordeaux looking at you through a fence. Even if there might be a wireless dog fence between you, you would practically shiver in fear. Their sharp teeth and scary-looking faces make these dogs the scariest dogs.
Aggression
One of the most common and sometimes concerning traits in all these dogs is aggression. Since, in one way or the other, these dogs are closer to wild dogs, they have heightened survival instincts in them even when they live in a domestic environment. So such instincts lead to aggression on multiple occasions.
Aggression may be towards unknown visitors at home or other animals in the home, but it can get controlled. One of the main things you have to keep in mind if you want to raise one of these scariest dogs is you must train them well. With ample training and socialization, you can help them reduce their aggression and accommodate well with others.
Attitude Towards Intruders
Since most dogs on this list are quite aggressive, they hate strangers and do not bode well with them. Through training, you can teach them that friendly strangers that visit the house and interact with you are not a threat. And similarly, you can let them have their way with any intruder or unwanted visitor in your house.
Dogs are intelligent, so they can sense if something is wrong. So if your dog sees someone climbing over the fences, they will fight them off. Also, if you show any signs of fear, these dogs will immediately become aggressive and protect you from the person.
Some Scariest Looking Dog Breeds
Now that we know all we need to know about what makes dogs scary and why they are ideal companions let us move on to the actual breeds. The breeds below are of the scariest dogs you can find to adopt and maybe some that you won't find. Though we have listed the scariest dogs you will ever find, not all of these breeds are ideal for adopting.
If you look at the breed details mentioned below, you will see if it is best to adopt them or not. While most of the dogs on the list can get trained well enough to control their temper well, some dogs don't have it in their nature to become domesticated. Ensure that you select the breeds carefully while adopting one of the scariest dogs to be your companion.
Here are some of the scariest dogs you would be able to find in the world:
German Shepherd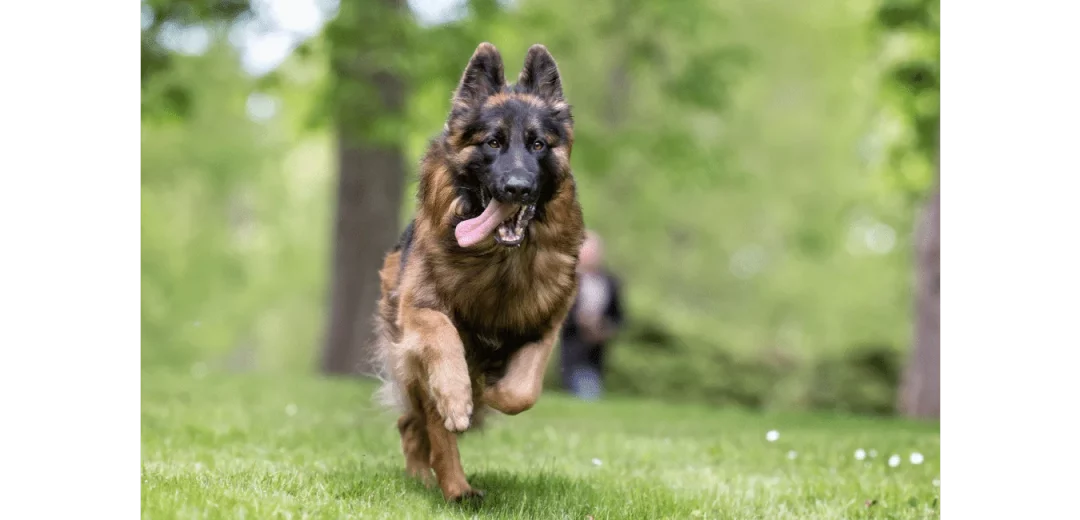 Possibly one of the most frequently adopted breeds, especially for security purposes, is the German Shepherds. They are some of the scariest dogs that can fend off any unwanted intruder at your home. They served as companion and guard dogs in the military and police forces for a very long time due to their excellent skills.
German Shepherds are not that large if you compare them with other dogs on the list, but they are far easier to train than others. Even though they may be aggressive with strangers, these dogs stay loyal to their owners and are surprisingly obedient.
They are suitable to raise in a family and are affectionate when they should be and aggressive when they should be. Overall, these are probably the best companion dogs that will provide maximum security without super challenging training.
Rottweiler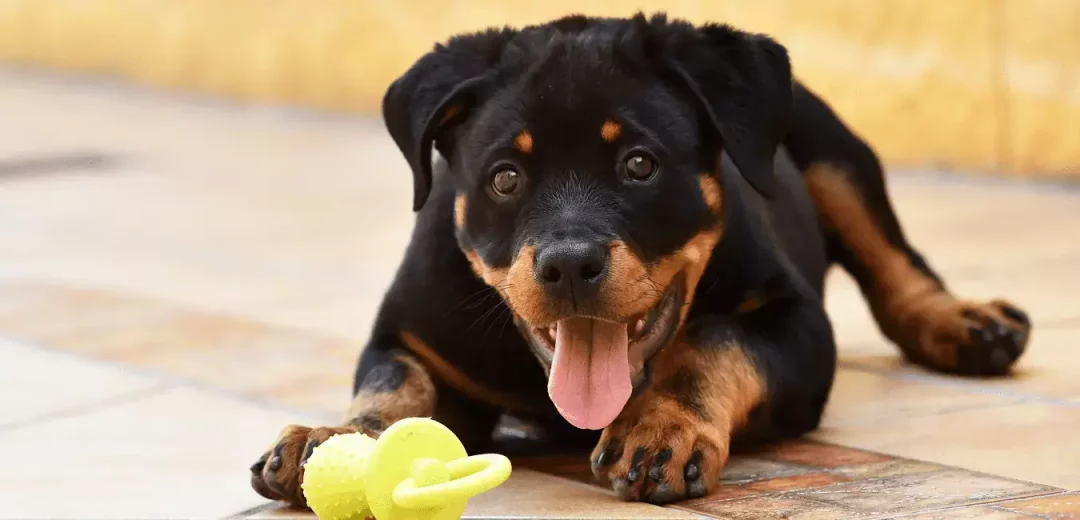 Rottweiler dogs are also ideal security dogs that are very strong due to their past. In the old days, they used to do intense physical activities, so they are so ideal as security dogs. They are also visually some of the scariest black dogs you will ever come across.
Their build makes them intimidating, and they can truly defeat a human opponent with much ease. They require a lot more training than a German Shepherd because they are slightly more aggressive. If you train them well from their childhood itself, you can build a lovely companionship with them, and they will stay loyal to you.
Bullmastiff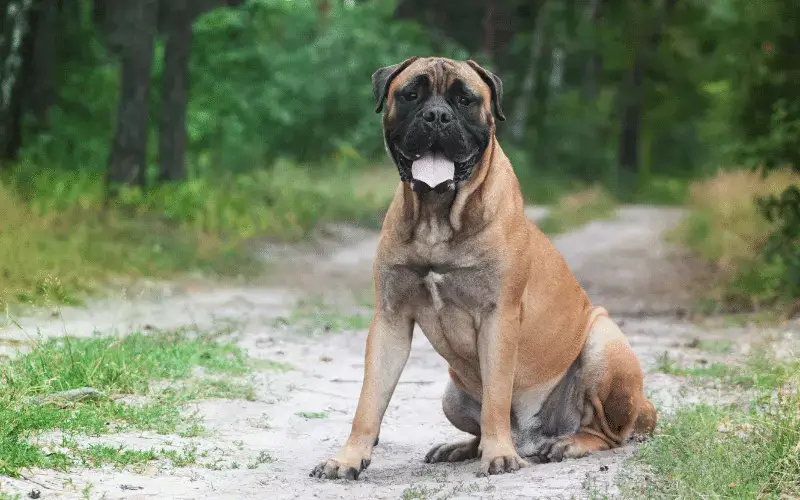 While other dogs on the list still have a manageable temper, the Bullmasttif are some of the scariest dogs with the nastiest tempers. They do not have much aggression towards the person who trained them, but they do not like strangers.
They require regular and tough training from a young age to make sure that they can differentiate between guests and intruders. Otherwise, they serve as great security dogs and will fight off any intruder. They also look quite scary and have a heavy and muscular build which makes them even scarier.
English Mastiff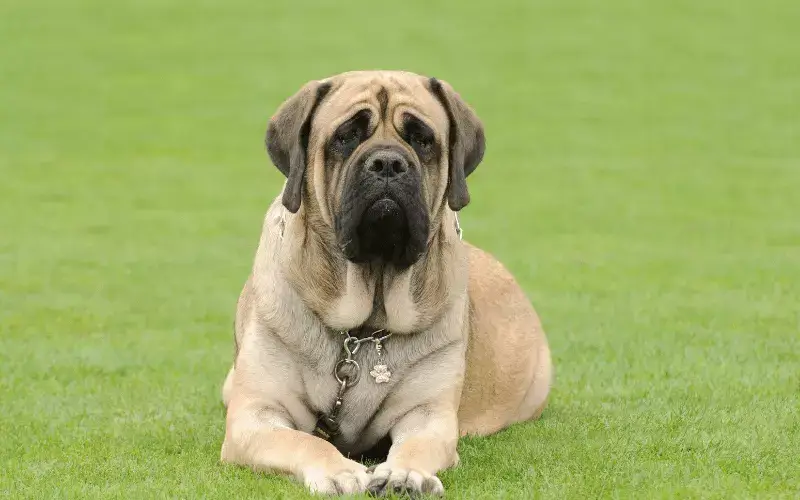 These dogs are some of the largest and scariest dogs on this list. They naturally have a very bulky build which will scare you to the bones even just by looking at them. They can weigh well over 200 pounds as adults, which is a lot heavier than humans too. But English Mastiffs are some of the ideal security dogs.
By their nature, they aren't as aggressive and stay calm. They only attack someone that makes them feel threatened and in danger. So they can mix well with family members too. They need lesser training and have a good sense of differentiating between family and threats. They also rarely bark, and whenever they attack, they do not bare their teeth.
They try to subdue the attacker with their bodyweight instead. So they will pin an intruder and most likely not initiate violent attacks on anyone at all. But their attacks are more than successful due to their enormous body. They are perfect security dogs with a tamed temper and are absolute sweethearts.
Tibetan Mastiff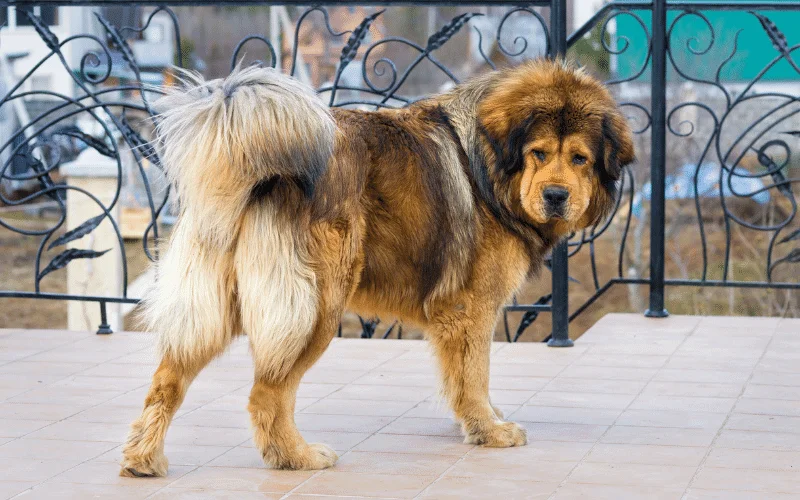 As their name suggests, this dog breed served as protecting dog in Tibet for a very long time. They have a rich history and, thus, are efficient guard dogs too. Like an English Mastiff, Tibetan Mastiff dogs are also calm and do not show aggression needlessly. They also do not bark a lot in general.
But it does not mean that they are not good guard dogs. They use a similar technique to pin down and restrain the intruder rather than physically harm them. Thus, these dogs are ideal for families and do not resort to violence if they can handle the intruder without it. They also do not like getting friendly with strangers much, although they dearly love their owners.
They are not that expressive, to begin with, because they have always worked as independent security dogs before. Their body is huge and looks even larger due to the thick fur for protection from the cold. They are some of the scariest dogs visually yet ones that can get trained well.
Doberman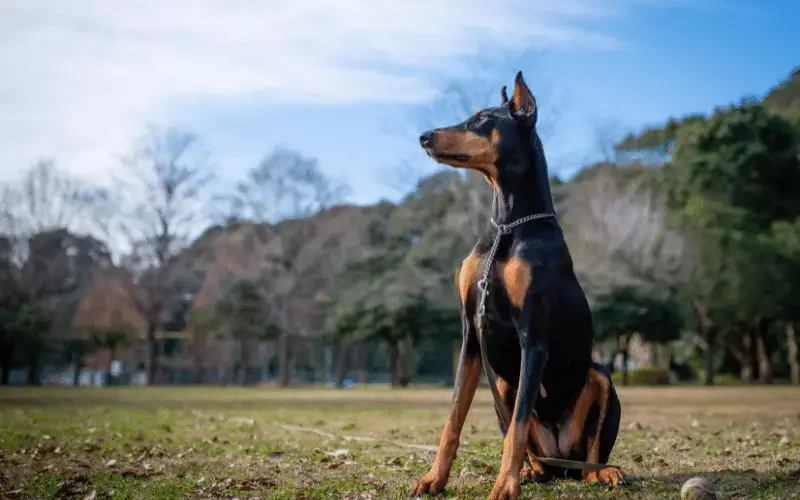 Doberman dogs are especially tall and lean dogs that used to guard workers in the past. They are excellent guard dogs both due to their size and intelligence levels. They know how to use their brain and figure out a good way around the situation, making them adapt to wary conditions fats.
They are not as heavy as they might seem, but they can give anyone the creeps. Even though they are not heavy, they know how to attack an intruder well so that they cannot harm anyone. And even though they look like the scariest dogs, they are more warm and loving than you would imagine. They do require extensive training from when they are young to differentiate between a friend and a threat.
Their bark will give chills to any person, and they have one of the scariest dog bark ever. You may require the best bark collar, but it isn't particularly necessary.
Great Pyrenees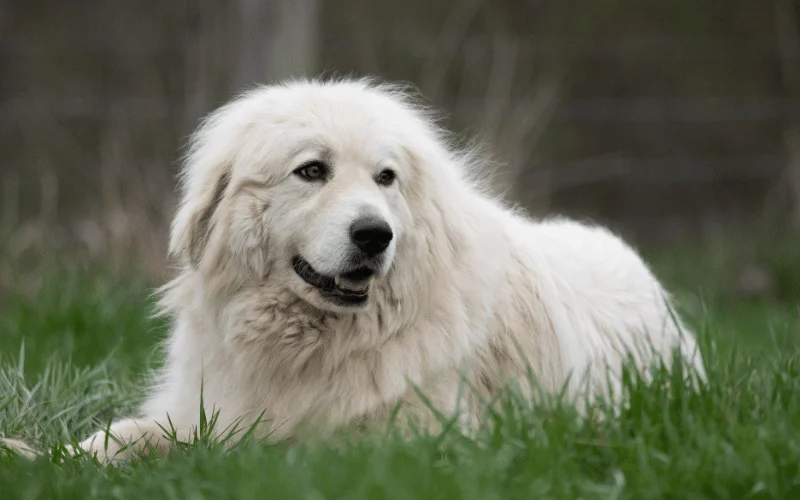 The cutest white scary dog on this list, the Great Pyrenees, are adorable furballs if you look closely, but they still, seem intimidating. They are perfect guard dogs who have previously served as guard dogs for sheep or cows. They can even fight off animals like foxes and wolves to protect their sheep or cows.
They look so adorable, yet some people still find them intimidating. Their height and fur make them look very bulky so an intruder would be intimidated by them. But true to their fluffy fur, and soft appearance, they are the calmest breed on the list. They hardly even show aggression and love displaying and receiving affection.
They are perfect for families but do not adapt well to urban setups. They need space to move around and shed quite a bit too. But they are the ideal breed to adopt as a family living in a more open space. You may need an escape-proof dog harness to keep these guys from running off. Just make sure not to go for an electric fence for dogs and choose a regular one instead.
Great Dane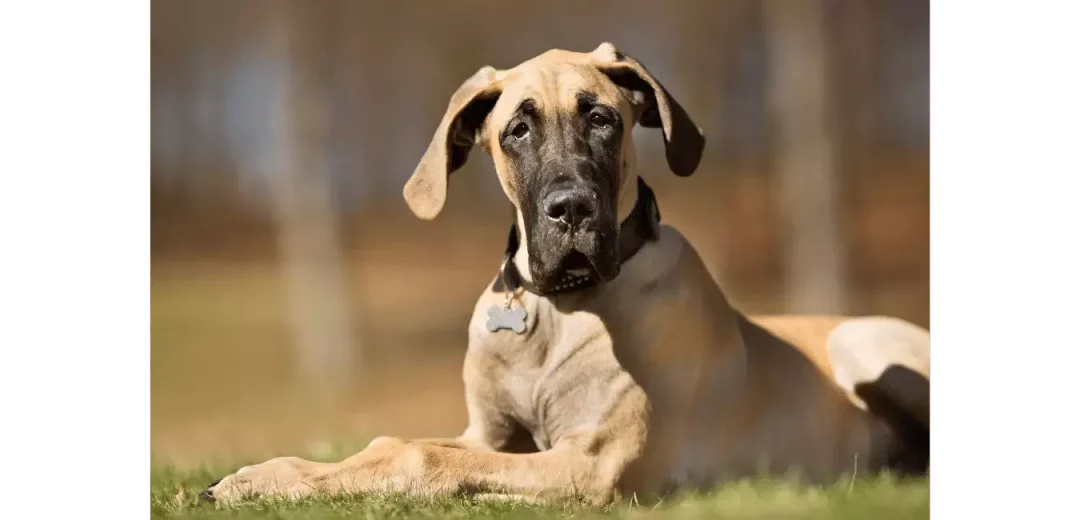 Some of the scariest and largest dogs on this list, Great Dane dogs may weigh well over 200 pounds and are tall as well. Their huge size makes them look intimidating to anyone. But behind their scary first appearance is a warm and friendly dog who loves playing around with family.
If trained well, they can become perfect companions for families and be the perfect guard dogs. But they need extensive training and exercise from a young age to develop into friendly dogs. If they do not have ample socialization, then their aggression may take over. Also, their height and size make them unsuitable for apartments. They need open spaces to live.
TosaInu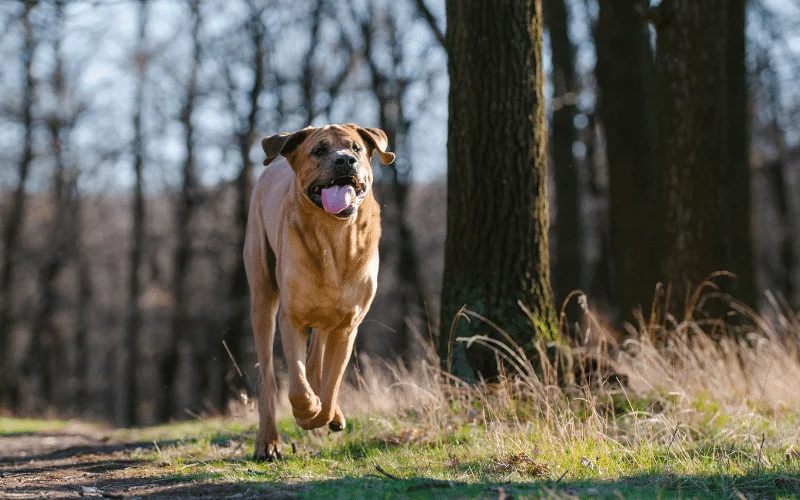 A breed originating from Japanese Mastiff, these dogs are probably not the ideal guard dogs, but scariest dogs, nevertheless. They do not get accepted in multiple countries due to their highly aggressive nature.
A TosaInu is usually calm and unbothered, but it would hate to share its space with any other animal whatsoever. Then their aggression will become obvious, and they might even harm the other pet or child. So they are not for family living. But their huge size combined with their short temper makes them one of the scariest dogs in the world.
Belgian Malinois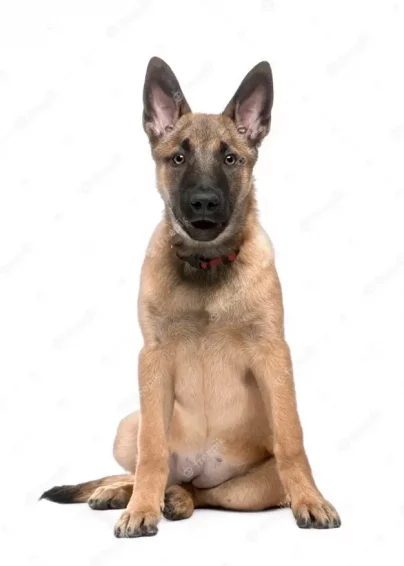 Replacing German Shepherd in multiple guard dog positions, Belgian Malinois performs very well in guarding. They have an intimidating physique and are super active. Their looks are scary by themselves, but their running capabilities are beyond imagination.
Due to their high energy levels and ample training, they can run quickly and chase away intruders. They are also quite intelligent and take command well from their wonders. Since they are a relatively newer breed, they are not as well known. But they are still some of the scariest guard dogs that are gentle with their owners.
They may develop anxiety and stress if they do not exercise well, so make sure you give them enough activities. You can also opt for a calming dog bed or dog beds for anxiety to help with their anxiety, but exercise is essential.
Caucasian Shepherd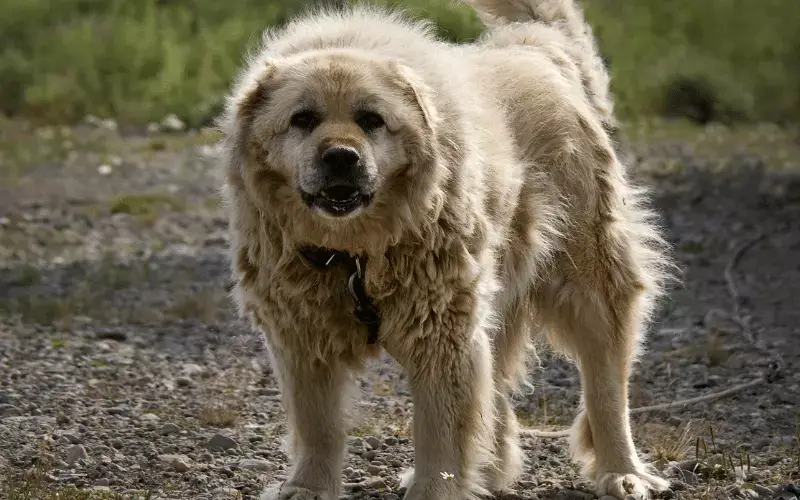 Caucasian Shepherd dogs, also known as Caucasian Ovcharka dogs, are similar to the Pyrenees in a manner. They have a history of protecting cattle and sheep from wolves and other threats too. They also have a thick and fluffy coat and look quite adorable.
But they are not as friendly as their fellow sheep protectors. They do not mix well with a stranger if they are not trained well from a young age. You must have some experience to raise a Caucasian Shepherd since their training is a challenging process for most people.
They also use a technique where they use their body weight on the intruder instead of their teeth. They weigh a lot, so they can easily subdue an intruder if they have to. Make sure to use a pet-friendly weed killer in your backyard, as they love to play outside.
Dogue de Bordeaux
These dogs originate from France, as the name suggests, and they are fierce fighting dogs. Their visuals rank them in the Top 5 for the scariest-looking dogs. They are muscular and heavy and have serious expressions on their face. Their sharp teeth and overall look combine to create a dog that will give you chills just by looking at it.
But they mix well with family members and love playing and goofing around. Since their origin is a hunting dog, they need to go through extensive training as a puppy to teach them all the correct habits. Otherwise, the dogs are perfect for family living and will spend their time running around and having fun with the family.
Pitbull
Another dog with a name that is intimidating too, Pitbulls, has a reputation for its nasty temper. And besides, who wouldn't agree that Pitbull is one of the scariest names for dogs of all time? They are a controversial breed because their mood can change drastically in a short period.
They are very friendly if they get trained well, but usually, owners do not train them well. It leads to the Pitbull being aggressive and moody. So the bad reputation is more the fault of inexperienced owners than the dog itself. So if you do not have confidence and experience in training dogs, it's better not to opt for Pitbull.
Boxer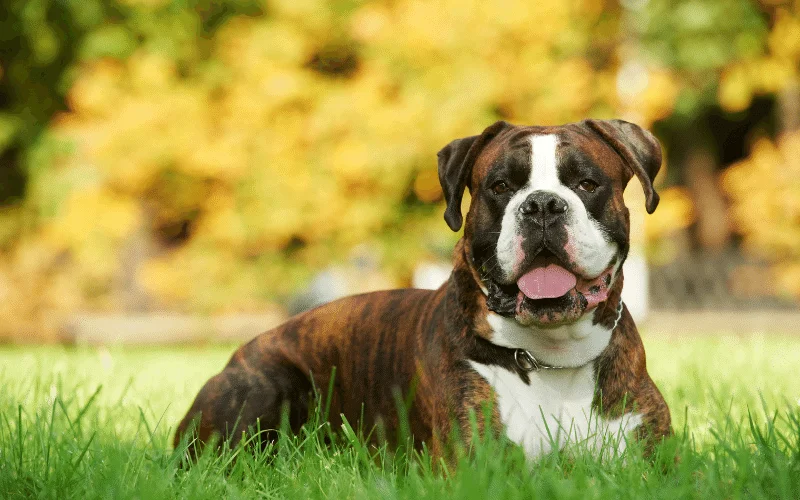 One of the more out-of-control breeds of the scariest dogs, the Boxer is a dangerous breed of dog. They even have one of the scariest dog names and aggressive and active nature. They are almost always overflowing with energy and sometimes fail to control it.
They are not the breed for beginners and need an extensive trainer to channel their energy into positive activities. True to their names, they sometimes stand up on their hind legs to throw punches at people, both playful and aggressive. They must be trained from an early age to contain their energy well and not be aggressive.
Rhodesian Ridgeback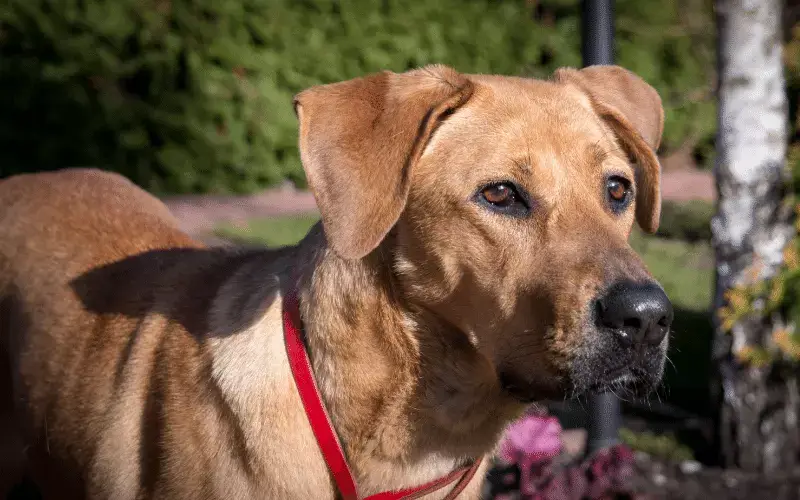 These dogs are not exactly suitable for domestic living and are not for the faint-hearted. You need a lot of experience and patience to train these dogs well, and these dogs generally don't mix well with families. They have a history of being wild dogs of South Africa, living amid nature.
They may not look like it, but they are the scariest dogs on this list; they can even chase off a lion in the wild where they live. Thus, their aggression and instincts are hard to control. They are not suitable for families, urban areas, and people who have never owned or trained dogs before. They need extensive training to reduce their aggression and make them obedient.
Frequently Asked Questions
Conclusion
If you are looking for a furry friend to help guard your home and provide you security, you must go for one of the Scariest Looking Dog Breeds. These evil-looking dogs are sweet fur balls that will give you lots of love but will scare off any intruders with their intimidating gaze.
Their huge size and intimating faces will keep intruders or even negative visitors at bay, and they will protect you with all they have. So you can refer to our guide for some of the scariest dogs in the world you can find to protect you.