We, dog lovers, can endure great deals just to ensure the safety and happiness of our furry friends. However, sometimes, allergies and dog fur all over the house can be highly unfeasible. Especially with big dogs, the hassle of shedding is often bigger and unmanageable to many of us. But if you cannot get over the temptations of getting a fluffy, ecstatic, large dog, there are some breeds of large dogs that don't shed.
Shedding in dogs occurs to get rid of dead hairs and to allow new hair to grow. And naturally, all dogs shed their fur. However, some dogs shed at such a rate that it is not noticeable at all! With some regular brushing, you can easily manage to live with these low-shedding dogs, often with no allergies or mess!
In this blog, we will go through a list of big dogs that don't shed, and you can keep them as a snuggle buddy by your side!
Large Dogs That Don't Shed
Standard Poodle
Poodles are intelligent, elegant, and adorable dogs that we often see dressed in ribbons and cute groomings. They are athletic and easy to train. These thick, curly-coated dog breeds come in 4 different sizes. The standard poodle is the biggest of them all, standing at 1½ feet tall and 40-70 lbs in weight.
Although they have a thick coat, they are known to shed minimally with regular brushing and will surely not cause any allergies. Thus, they are one of the most highly sought large dogs that don't shed!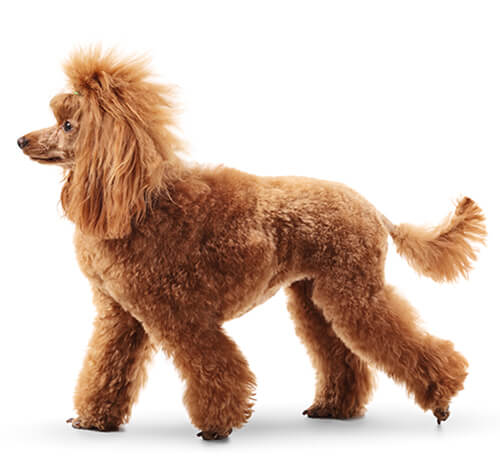 Komondor
Komondor is Hungarian sheepdogs and livestock guardians. They are large, often weighing as much as 100 lbs and white. These dogs are protective and brave as well. Komondors are unique in their appearance, having thick, soft curls that become corded as they keep growing.
Although their lush coat will give you a deception of clumsy shedding, you will be surprised by how low-shedding dogs they are. Their coats do not need regular brushing. However, you need to take your time bathing and drying their densely corded coat.
Belgian Malinois
If you are looking for dogs like German Shepherds that don't shed, a Belgian Malinois is ideal for you. They are brave, and great learners loved for their assertiveness.
Hailing from Belgium, Belgian Malinois are medium-sized herding dogs who resemble German Shepherds a lot, except for their shedding. They are usually around 40 to 50 pounds in weight, often weighing as high as 80 pounds. These dogs do not drool, and their straight coat also ensures less no noticeable shedding. Thus, they are perfect for anyone with allergies!
The Airedale Terrier
If you are looking for large dogs that don't shed and love Terrier, Airdele Terries is a perfect choice! Airedale terriers are brave, friendly, and playful. These British breeds are the biggest among all terriers. And for its size, strength, and tireless spirit, the Airedale Terrier is also known as "The King of Terriers."
They have a short, wiry, tough topcoat and a relatively soft undercoat. The coat is not susceptible to shedding, and with regular brushing, it can be kept healthy. Thus, you can keep your house mess-free while playing with a great companion!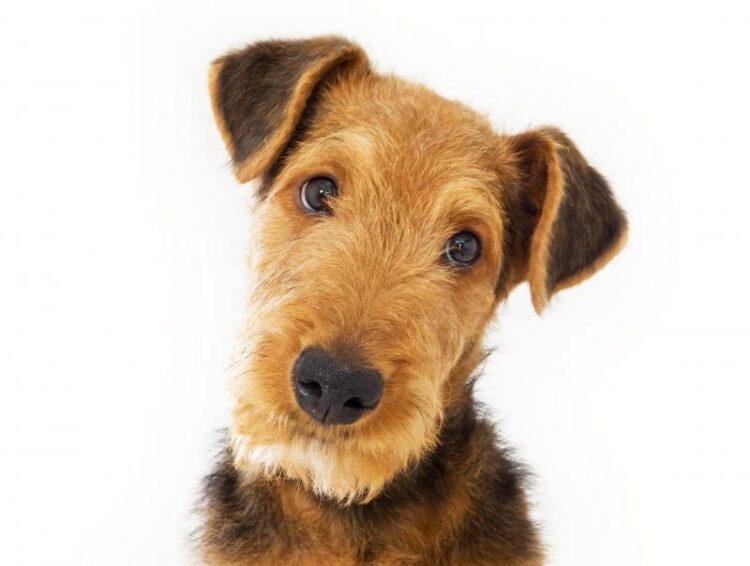 Saluki
If you want to keep a very elegant yet very protective and intelligent dog, Saluki is the go! Saluki is among the oldest dog breed on the earth, even used primarily by nomadic groups for hunting. They have toned, tall bodies that can move and run swiftly. Also, they are very friendly. However, they are pretty hard to train and should not be let off the leash without proper training as they love to run.
The Saluki has a very silky, smooth coat that rarely needs any grooming. Furthermore, it does not shed its coat and is ideal for any hypoallergenic home!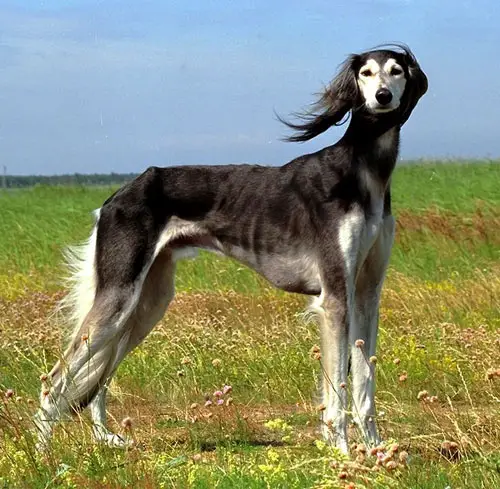 Goldendoodle
Goldendoodle is an adorable and affectionate dog loved by everyone. It is a crossbreed between a Golden Retriever and a Poodle. It has 3 different sizes. And a big Goldendoodle can weigh around 60 to 80 lbs.
Although a Goldendoodle looks mostly like a Golden Retriever. But luckily, it does not shed its fur just like a Poodle! Its coat can be flat, straight, wavy, or even curly. The coat is double-layered, which means it may face some matting if not brushed thoroughly. However, it does not create a mess while shedding; it is hardly even noticeable.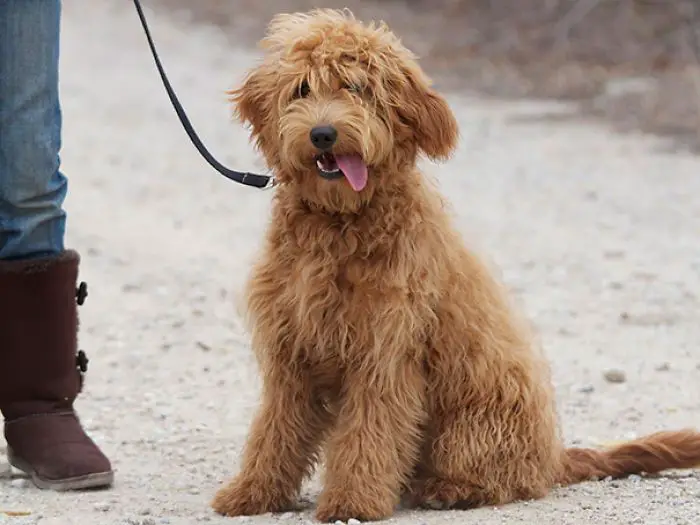 Bouvier des Flanders
Bouvier de Flanders is a large, herding dog breed hailing from Flanders, Belgium. They are intelligent and hard-working as they were used to herd livestock, and now they are sometimes used as police dogs as well. However, they are undoubtedly great pets and easily trained! These protective dogs can stand above 2 feet tall and weigh around 70 to 100 pounds.
Bouvier de Flanders has a thick and long coat that remains healthy only with appropriate care. They need to be groomed and brushed thoroughly. Moreover, bathing them can be toilsome and take some time for drying. On the contrary, the good news is, they are low-shedding dogs that don't create a mess!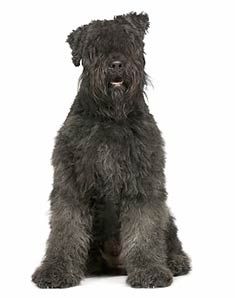 Irish Water Spaniel
Standing as the tallest of all spaniels, the Irish Water Spaniel is an amiable and active dog always ready to please its owner. It stands tall at 2 feet and weighs around 50-70 pounds. They love activities, especially, they love to swim.
Irish Water Spaniels have a thick and curly waterproof coat. And this thick coat means it can easily succumb to matting. Thus, you need to brush the coat regularly along with occasional bathing. However, they are among the large dogs that don't shed and making them ideal for you!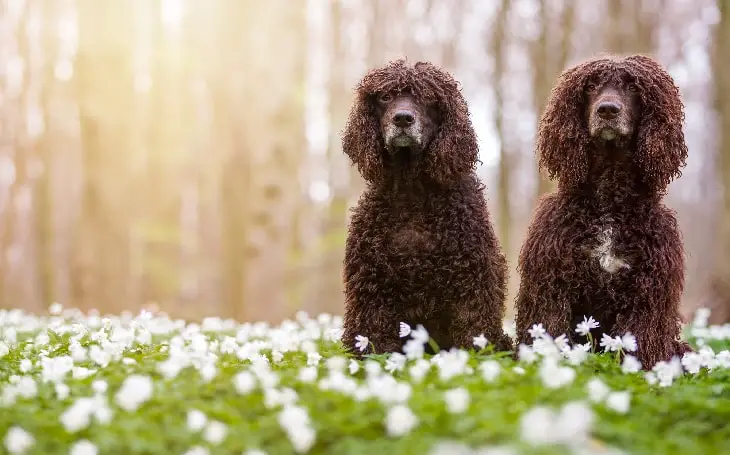 Afghan Hound
Afghan Hounds are another elegant and graceful pet that everyone loves. They are pretty mischievous and love to play with their owners. On top of that, they are very independent, intelligent, and confident in their demeanor. They can be over 50-60 pounds, standing as tall as 2 ½ feet!
Perhaps one thing that makes them the most noticeable is their thick, long, luscious coat covering their bodies. Their coat keeps growing, which means they naturally need to be groomed and brushed. But the best part is, they are among the large dogs that don't shed rapidly! So although they are high maintenance, brushing would keep their shedding unnoticeable!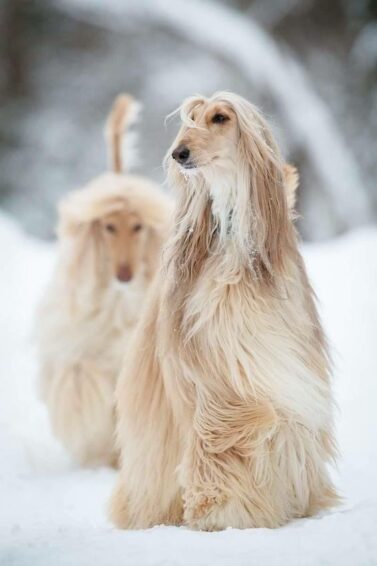 Black Russian Terrier
The Black Russian Terrier is a strong, big dog used as a military dog in the 1950s. They are quick learners and can be trained easily. Moreover, they are total attention seekers and are very protective of their families. They are very rare among other breeds of large dogs that don't shed. They can stand tall even over 2 ½ feet and weigh anywhere around 80 to 130 lbs.
Even their coat is unique in its color and structure. Black Russian Terriers have doubles layered coats. The top coat is very coarse, giving protection and the inner layer is relatively softer. Their coat needs regular maintenance and needs to be brushed occasionally. However, they do not shed their coat and keep your house allergy and mess-free!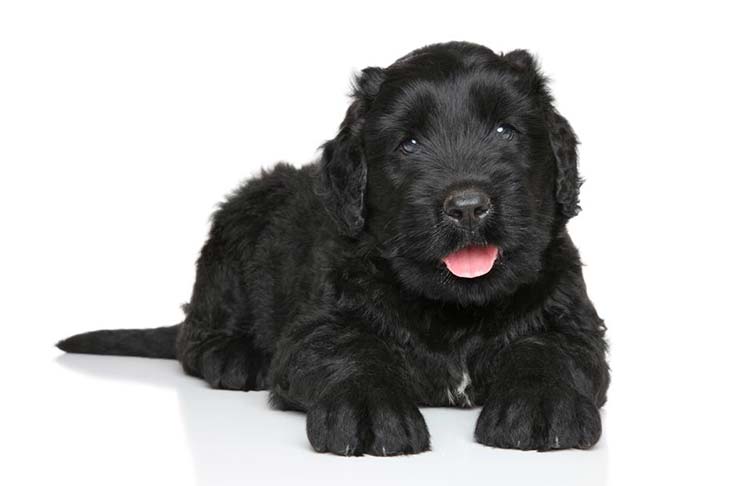 Giant Schnauzer
Giant Schnauzer is a dog breed originating from Germany and the biggest among all 3 breeds of Schnauzer. These large dog breeds can weigh around 70 to even whopping 100 lbs and stand taller than 2 feet in height. Although they are now primarily pets, in the past, they were in use as police dogs. They are reserved and attention seekers. Their intelligence and protective behavior make for excellent guard dogs as well!
The Giant Schnauzer has a double-layered coat with a soft undercoat and coarse overcoat. The overcoat is dense, wiry, and weather-resistant. But the coat does not shed conspicuously and needs grooming and brushing. As a result, it is among low-shedding dog breeds that everyone loves!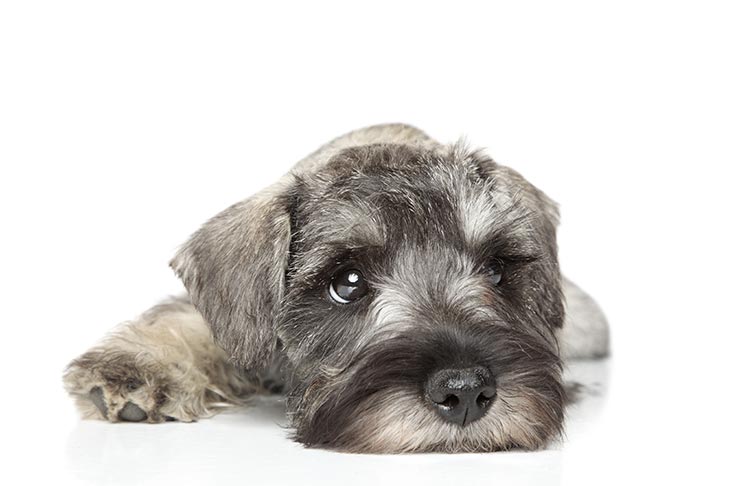 Portuguese Water Dog
The Portuguese Water Dog is a friendly and highly energetic breed that everyone loves to keep around. They are very playful and will easily become a part of your family. They are athletic and love a good workout. A Portuguese Water Dog can be as tall as 2 feet and weigh around 60+ pounds.
Their coat can be curly or wavy with a slight sheen. They don't have any undercoats, which makes coat maintenance reasonably easy. However, their coat is very dense, and trimming can easily reduce any matting. And they do not shed their coat, making them the ideal choice for anyone looking for a hypoallergenic dog.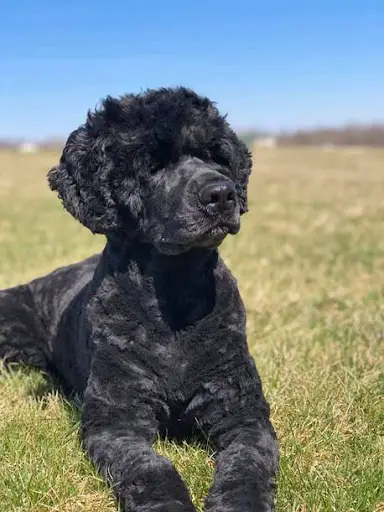 There are numerous breeds of Large Dogs That Don't Shed and will be an excellent addition to your family! As we already mentioned, every dog sheds their coat, some slower than others, and some shed depending on their medical conditions. And in this blog, we have listed the low-shedding dog breeds whose shedding won't make a mess and make your work easier.
With regular brushing, bathing, and grooming of your furry friend, you will see their coats remain healthy and shed less!